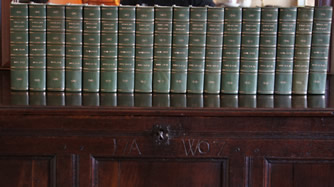 Our on-line listings can be browsed and searched for by title, author, keyword or catalogue by clicking on the "Search & Buy our Books" link on the right. Only a small proportion (approximately 5,000 of 15,000 plus) of our books are listed on-line, so a visit to the actual, real, bricks and mortar shop is always recommended.
Being in Stratford upon Avon, we always try to have a range of Shakespeare's works, Shakespeareana and Shakespearean criticism.
We have sections on local history and topography; Stratford on Avon, Warwickshire, Worcestershire, Oxfordshire and Gloucestershire. We have topographical sections for England, Scotland, Wales and Ireland. Other "departments" include: History, Literary Biography, Drama, Theatrical History, Natural History, Country Lore, Military History, Transport (Motor Transport, Steam and other Railways, Air Transport), Children's Books (including some of the classic titles of Children's literature), Modern First Editions and other collectable books .... the list goes on. To give a flavour I have attached below a list of subject areas currently listed as categories in our book inventory database. Follow the link on the right navigation bar...
We also have a wide selection English language and translations of classic literature (Austen, the Brontës, Dickens, Hardy, Henty, Henry James, Kipling, Scott, Bernard Shaw, Robert Louis Stevenson, Spenser, Thackeray, Trollope, and on to Zola. Twentieth and twenty first century literature is equally well represented, from Douglas Adams through to Virginia Woolf - in short, all the great authors.
Current "catalogues" (to browse by caatalogue please follow the "Search & Buy our Books on-line link" to the right:
Aircraft
American
American History
Ancient History
Animals
Anthologies
Anthropology
Antiquarian and Collectable
Antiques & Collectibles
- General
Antiques and Collectables
Antiques and Collecting
Archaeology
Architecture
Art
Aviation
Ballet
Biographies and Autobiographies
Biography
Book collecting, book making & typography
Books
Britain in Pictuers
Britain in Pictures
Business
Cartoons
Chess
Children's Books
Childrens
Churchill
Classic
Classic Literature
Classical
Cookery
Country Lore
Country Lore and Life
Crafts
Crafts and Arts
Crime Fiction
Dance
Drama
Drama and Dramatic Arts
Dramatic Arts
England
Essays
European History
Family History and Genealogy
Film
Film and Media
Film, TV and Media
Film, TV and Radio
Firsts and Collectables
Fish
Fishing
Folio Society
Food & Drink
Foreign Languages
France
French History
Games and Pastimes
Gardening
Genealogy
Geology
Graphology
Greek / Roman culture
Historical
Historical Biography
History
Horticulture
Humour
In Praise Of
Institutional
Institutions
Ireland
Journalism
Letters
Letters and Essays
Linguistics
Literary
Literary Biography
Literary Criticism
Literature
Literature and novels
Local (to Stratford upon Avon)
Local History
Local Topography
London
Maritime
Medical
Midlands
Military
Military History
Mind and Spirit
Mind and Spiritsh
Modern Firsts
Modern Firsts and Collectables
Motor
Mountaineering and Polar
muc
Music
Myths and Legends
Natural History
Naval
Northern Counties
Observers
Occult and Paranormal
Paranormal
Philosophy
Photography
Plays
poep
Poetry
Polar / Mountaineering
Political
Political Biography
Politics
Publishing and Journalism
Railways
Reference
Royalty
Sailing
Science
Science and Technology
Scotland
Sea Voyages
Shakespeare
Shakespeare and Shakespeariana
Social
Social History
Social Science and Psychology
Special Presses
Sport and games
Stagecraft
Theatre
Theatrical
Theatrical Biography
Theatrical History
Theology
Topography
Topography and local history
Transport
Travel
Travel and Exploration
Travel Guides
True Crime
Wales