The Chaucer Head Bookshop, Stratford upon Avon
Home
 To view our interactive 3D Street View tour click and drag the little yellow man in the bottom right-hand corner until he's over the red pin.

We have been having difficulties in receiving email, I will continue working to try and resolve the issue ...
The email problem is with Microsoft Outlook - it periodically just stops receiving email, on the one (shop) account only.  It seems that it can only be mended by deleting the account from Outlook and re-installing it, which takes a while.  It then works for a few days, then the whole cycle starts again. Which is a roundabout way of saying that we still have intermittent problems with our email; many apologies to anyone waiting for a response from us
We are in the process of changing our telephone number; from 24th October the 01789 415691 number will no longer work.  Our new telephone number is (01789) 204330. Apologies for any inconvenience my failure to post this ages ago may have caused.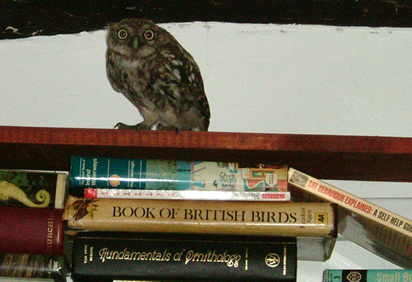 The book titles in the picture are so appropriate and entertaining (you'd not be blamed for thinking that they were photo-shopped which they weren't) that I couldn't resist. My favourite is "Cat Behaviour Explained..."